Updates from OPTIMA II trial of de-escalating therapy in HPV-positive oropharyngeal cancer w/ @AriRosenbergMD

Available here 👉http://ow.ly/kR4r50G1nFG👈

@VJOncology @ASCO @OncoAlert #ASCO21 #HNCsm #Oncology
Embedded imaging & biospecimen analysis will be very insightful: PBMC, ctDNA, CTC every 12 weeks + biopsy at 3 time points. Striking difference in PSA50RR (73% vs 28%) compared to @thomashopemd #ASCO21 study.
The next day after #ASCO21 and #ESMO21:
- You get pembro
- You get pembro
- You get pembro too!
- PEMBRO FOR EVERYONE!
#ArtificialIntelligence and Next-Generation Oncology in #ASCO21 #ASCO2021, by @docpino2. https://ascopost.com/issues/august-10-2021/2021-asco-annual-meeting-next-generation-oncology-highlights/
#ESMO21 For reference, here are the updated PACIFIC PFS curves presented by Dr. @DavidRSpigel at #ASCO21. Expect GEMSTONE to have lower outcomes based on histology and inclusion of sequential CRT. Need for sequential often comorbidities (though can be just logistics). #LCSM
Twitter feed video.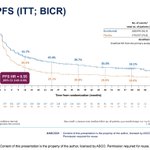 Load More...